Stillbow Ranch history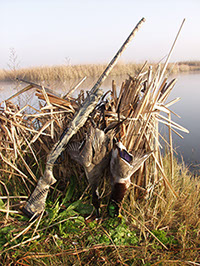 Submitted by Dennis Campini
The club was originally formed around the 1900s by Henry Miller Bowles and a Dr. Stills, thus the name "Stillbow." The property was part of the old Miller & Lux land holdings of which Bowles had an interest in, as Bowles had married one of Miller's daughters. Miller & Lux had their main office in Los Banos. They would get to the club by taking the "Milk" train on the old Sante Fe grade to the Britto oil pump station and have the club caretaker pick them up by horse and buggy.
The original set -up included tents and a camp setting. The lodge was started about 1921, and I have been told it took 3 yrs. to complete-- since it took that long to get suitable wood and building materials. All one needs to do today is look at the quality of construction: no seams in panels, hand hewn perfect beams, hardware, stonework on fire place etc. Ninety per cent of the inside has never been touched, with the same wood and stain and hardware as 1921. No expense was spared in engineering or design, and only the best craftsman of the time were hired.
Stillbow was the only facility in the area that had a lodge that stood alone in grandeur, and to this day it is still one of a kind and very special. Sometime during the 1930s and 1940s it was sold to the Fleishhacker family of San Francisco, who owned it until around 1948.
A Mr. Hunger then ran it as a pay-to-shoot club and renting blinds by the day, while his wife would cook breakfast and lunch; he also ran cattle on it. The club sat vacant and rundown thru the 1960s. In 1969 an ad in the Wall Street Journal caught the attention of gentleman by the name of Prent Fulmor. He put together a group of sportsman, sold shares (about 20), and started to bring the "old girl" back to life.
Over the years, the membership was increased to 30 shareholders and, as one can tell, the membership has done quite a job in keeping the legacy of the Stillbow Ranch, Inc. intact for generations to come.
​